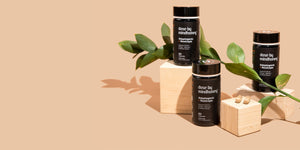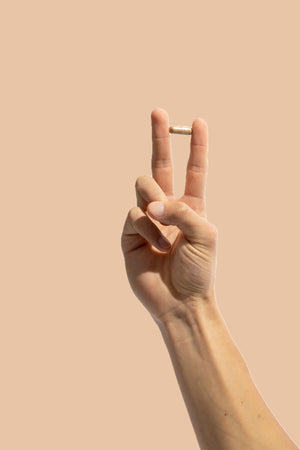 Designed with purpose in mind
NO SNAKE OIL, NO NONSENSE, ALL NATURAL FORMULATION
Organic Lion's Mane
The Brain Booster: One of the more popular mushrooms, Lion's Mane may help to support daily cognitive functions, including, focus, reasoning, and alertness. Lion's Mane may also help to promote neurogenesis and your body's ability to reduce inflammation and oxidative stress. Your brain will be begging for more.
*Extracted from Fruiting Bodies
Organic Reishi
The Protector: Reishi is best known for its potential support with boosting the immune system, reduce symptoms of fatigue, and positively impacting white blood cells. Reishi can also help to improve your lymphocyte function, which helps to fight infections in those exposed to stressful conditions. Brass knuckles for your immune system.
*Extracted from Fruiting Bodies
Organic Cordyceps
The Energy Enhancer: Cordyceps is a fan favorite in the fitness crowd because of its ability to help support an increase in the body's production of ATP (adenosine triphosphate), which may help to enhance recovery, stamina, and performance. Your body will thank you later.
*Extracted from Fruiting Bodies
Organic Chaga
The Controller: Chaga may help support your body's ability to manage cholesterol, blood sugar, and insulin resistance. Chaga also helps to decrease "bad" LDL cholesterol and increase "good" HDL cholesterol, which can potentially reduce your risk of heart disease. Give your heart the gift it deserves.
*Extracted from Fruiting Bodies
L-Theanine
The Companion: When paired with caffeine, L-Theanine may help work to increase focus and attention. L-Theanine may also play a critical role in relieving anxiety & stress, supporting your immune systems, and managing blood pressure. Caffeine's wingman for enhancing performance.
Ashwagandha
The Shaman: Ashwagandha is an adaptogen that is best known for its ability to help support stress, performance, sleep quality, muscle strength, and inflammation. POV: your daily stress is more manageable.
Bacopa Monnieri
The Balancer: Bacopa Monnieri contains powerful antioxidants that may help protect against cell damage caused by free radicals. Bacopa Monnieri is also known for its ability to help support inflammation, executive function, and anxiety & stress. Rebalance your mindset.
N-Acetyl L-Tyrosine
The Champion: NALT helps to produce important brain chemicals that may support nerve cells communication, focus & alertness, mood, and performance. NALT may also be a key factor in the creation of critical substances, including dopamine, adrenaline & noradrenaline, thyroid hormones, and melanin. Start your day with a smile.
Rhodiola Rosea
The Guide: Rhodiola rosea may help to increase your body's resistance to stress, alleviate fatigue, and improve executive function & exercise performance. Rhodiola Rosea has been shown to improve symptoms of burnout, which occur with chronic stress. Put your mind in the driver's seat.
DMAE Bitartrate
The Progressor: DMAE Bitartrate works by helping support an increase in your body's production of ACH (acetylcholine), a neurotransmitter that's crucial for helping nerve cells send signals. ACH may also help regulate recovery, including REM sleep, muscle contractions, and pain responses. Work hard, recover better.
Green Tea Extract
The Awakener: Green Tea Extract is a strong antioxidant that has been shown to help protect cells from oxidative stress, increase energy levels, boost athletic performance, and enhance executive function. Fill up your think tank with brain fuel.
Vitamin B (B3 + B6)
The Vital: Vitamin B3 may help to support lowering cholesterol, protecting skin cells, and can be a major component of NAD & NADP. Vitamin B6 may play a role in creating neurotransmitters that help to regulate emotions. The cherry on the cake of wellness.